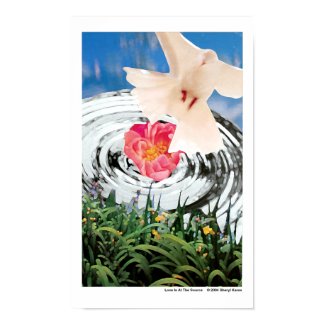 Love is at the Source Print
by
paulnsheryl
Browse for more
framed art posters
at zazzle
I've always liked this collage painting I started in a workshop I took on designing personal Tarot images. The idea was to pick images in magazines you were drawn to at random after setting an intention for personal guidance in meditation. Then you combine the most attractive images to you in a collage. This is what I came up with that day then put into Photoshop to create a more unified effect using a variety of filters.
What I really like about doing this exercise is the internal representation I didn't expect to choose for spirit. I wasn't even thinking in those terms. I don't remember what the meditative focus was now but I'm sure it was something mundane like what do I need to remember for my health and well-being right now?
Love is at the Source. Sometimes I hear
guidance
about lightening up, enjoying the ride a lot more. To stop being so serious and enjoy my life. LOVE is at the Source! Why wouldn't a loving spirit want us to love our lives?